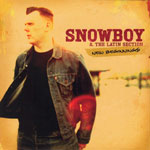 SNOWBOY AND THE LATIN SECTION
This is the most energetic and hard-hitting Latin Jazz band on the planet. Snowboy has toured world-wide, purveying his own brand of boisterous jazz dance music.
News of the latest album, recorded in 2004, can be found at Chillifunk.
The musicians are:
Snowboy - congas
Dave Pattman - bongo, campana
Davide Giovannini - drums, timbales, vocals
Neil Angilley - keyboards
Nico Gomez - bass
Sid Gauld - trumpet
Gary Plumley - tenor sax
Paul Taylor - trombone.
---
Since he joined the band, Paul Taylor has recorded these albums:
Snowboy & The Latin Section - "Pit Bull Latin Jazz", Acid Jazz
Snowboy - "Many Faces Of Snowboy", Acid Jazz
Snowboy & The Latin Section - "Mambo Rage", Cubop (Ubiquity)
Snowboy & The Latin Section - "Afro-Cuban Jazz", Cubop (Ubiquity)
Snowboy & The Latin Section - "Para Puente", Cubop (Ubiquity)
Snowboy & The Latin Section - "New Beginnings", Chillifunk
---
Snowboy's web-site: www.snowboy.info
---
---
---
© Paul Taylor 2004