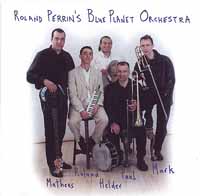 THE BLUE PLANET ORCHESTRA
With the help of the unusual front line of two trombones, Roland Perrin developed a sound unlike any other, a sound that grew from an intimate understanding of Latin, Caribbean and African music, jazz, and European classical music. The result is a sophisticated yet dance-oriented sound for head, heart and feet.
The band released a CD, Introducing The Blue Planet Orchestra, on its own label, Blue Planet Records (BPR 001).
Bukowski fans may like to know that the Blue Planet Orchestra has also released a CD called Songs from the Cage which features a suite of settings of Bukowski's poems for choir and jazz orchestra. See also the trombone poetry site.
---
---
---
© Paul Taylor 2004