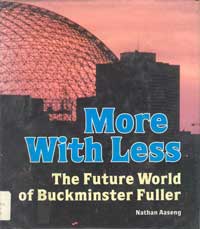 MORE WITH LESS
The Future World of Buckminster Fuller
Aaseng, Nathan
1986
Running to only 80 pages, this well-illustrated book can be read in minutes but would give school students food for thought for years.
One quibble is that he attributes the failure to mass-produce the Dymaxion Dwelling Machine to an image problem:
"Architects were furious that a man who had no training at all in architecture would try to tell them how houses ought to be built. Their ridicule, as well as the public's built-in suspicion of anything too new, doomed his first effort at Dymaxion structures." (p.31)
Hatch's book, which is in Aaseng's bibliography, explains this failure in terms of the greed of Fuller's commercial backers, who were over-excited at the amount of unsolicited orders and cheques being received in response to advance publicity.
---
---
---
© Paul Taylor 2006